LOS ANGELES, Calif., April 4, 2023 (SEND2PRESS NEWSWIRE) — Cheyenne Hunt, a passionate advocate for social justice and equality, announced today her candidacy for Congress representing California's 45th district. Hunt has built a strong following on social media platforms like TikTok, where she has used her often provocative content to educate and mobilize young people around progressive issues.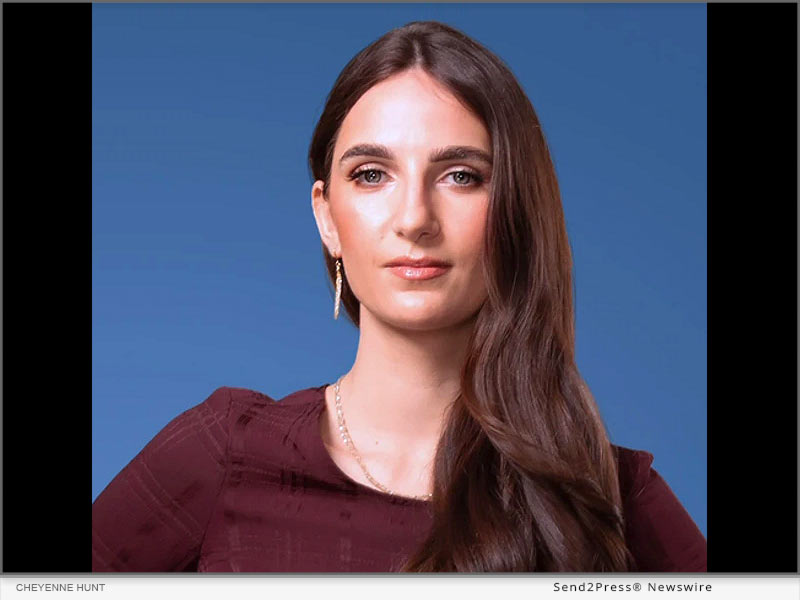 Photo Caption: Cheyenne Hunt.
"I'm running for Congress because I believe we need leaders who will fight for working families, for our planet, and for justice and equality for all," Hunt said in a statement. "I've seen firsthand how our current representative has failed our community by putting corporate interests ahead of our needs. It's time for a change, and I'm ready to be that change."
Hunt quickly to prominence on Capitol Hill as the youngest law clerk for Senator Amy Klobuchar. During her time working with the Senate Judiciary Committee, Cheyenne was instrumental in drafting and promoting legislation that advanced progressive causes. She was a driving force behind numerous initiatives, including social media policy, civil rights, reproductive justice, and democracy reform.
Hunt's campaign will focus on a number of key issues, including building a stronger and more equitable economy, improving infrastructure, taking bold action on climate change, and reining in big tech companies. She is also committed to advancing racial and social justice, and to fighting for the rights of marginalized communities including women and seniors.
"We need leaders who understand the challenges facing our communities and who are committed to working towards real solutions," Hunt said. "I'm proud to be running a campaign that is powered by the peopl, and puts the needs of our community first."
Hunt's candidacy has already generated significant excitement and support from voters in her Orange County district and beyond. She has a strong track record of grassroots organizing and activism and is poised to build a powerful coalition of supporters to help her win in November.
For more information about Cheyenne Hunt's campaign, please visit her website at: https://www.cheyennehunt.com/.
MEDIA CONTACT:
Lynn Munroe
845-548-1211
publicrelations@ascendantgroupbranding.com
PHOTO link for media:
https://www.Send2Press.com/300dpi/23-0404-s2p-cheyenne-hunt-300dpi.jpg
Caption: Cheyenne Hunt
* PAID FOR BY CHEYENNE HUNT FOR CONGRESS *
News Source: Cheyenne Hunt for Congress
To view the original post, visit: https://www.send2press.com/wire/cheyenne-hunt-announces-candidacy-for-congress-representing-californias-45th-district/.
This press release was issued by Send2Press® Newswire on behalf of the news source, who is solely responsible for its accuracy. www.send2press.com.